5 Fun Family Activities for Your Backyard
We spend so much time and energy getting our yards looking beautiful, but it's important to make sure you spend quality relaxation and family time in your yard too. Spending time outside lowers depression, increases life expectancy, improves sleep quality, and even lowers your risk for cancer. Here are five fun ways to add some excitement to your yard for the whole family.
Backyard Games
Backyard games are a great way to spend time outdoors and can work for any age group. Whether you're playing outside with your young kids or having an adults-only barbeque, games are sure to get the party going. By purchasing or making your own large dice out of wood, you can play any dice game from Yahtzee to Farkle. Get rectangular pieces of wood and create your own Jenga. Pick up some lawn darts for a fun, simple game everyone will enjoy. The options are endless.
Water Activities
Water activities are another great way to provide entertainment for the whole family. From simply turning on the sprinklers to having a water gunfight, it's a great way to stay cool and have fun. In addition, there are many, many options for inflatable pools and splash pads in all price ranges. From smaller pools meant for toddlers to larger pools for teenagers and adults. If you're going to use a pool or splash pad, just be sure to move it every day or two to avoid damage to your lawn. If the pool is too large to move, consider putting it on a deck or non-grass area of your yard. The lawn can go dormant after being covered for just 24 hours and can be completely killed if covered for two weeks.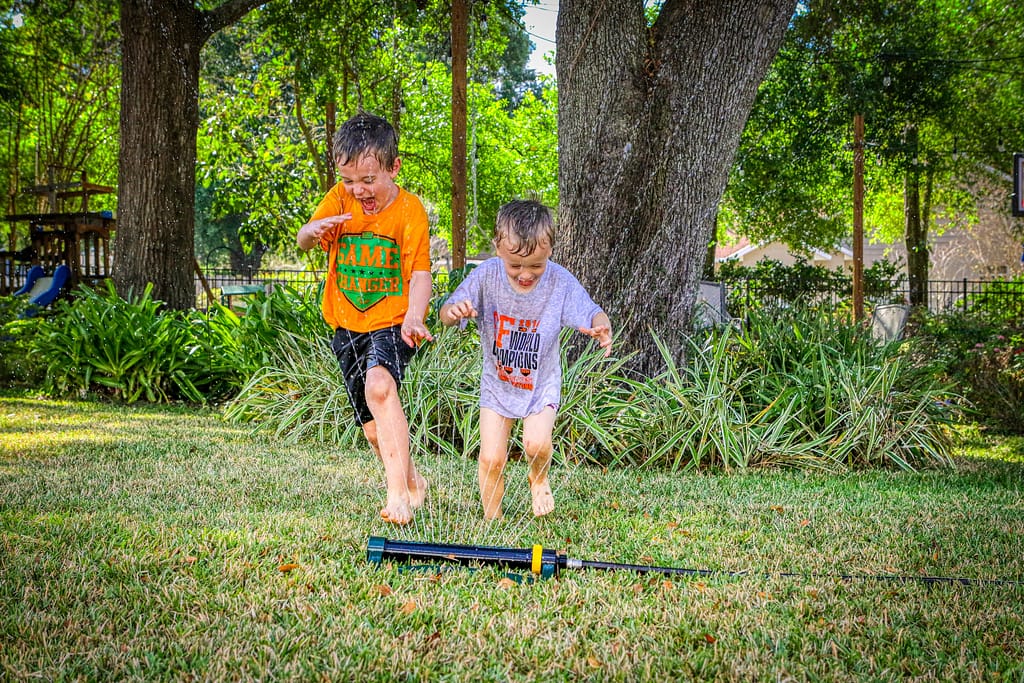 Outdoor Movie Nights
Outdoor movie nights are a great way to enjoy the warm summer nights with family and friends. If you don't want to buy a fancy projector screen, there are a few cost-effective options to consider. You can hang a white sheet from two trees or posts or, if you have a light-colored exterior on your home, you can simply project the movie right onto your house. You can even project it onto your fence if that's available to you. Now all you need is some blankets or chairs and some yummy movie snacks.
Vertical Garden
Adding a vertical garden is a fun and practical way to use space in your yard, especially if your yard is smaller. You can buy vertical garden beds or, if you're in the mood for a little project, you can add planter boxes to your fence. This is a great way to beautify your space and add additional greenery. Whether you want to plant herbs, vegetables, or some beautiful flowers, make it a family project to care for the garden together.
Fence Chalkboard
Finally, another easy way to add some fun to your yard is with a fence chalkboard. Simply hang up a larger size chalkboard with some rope from your fence posts. Children will enjoy coloring and creating in the outdoors. You can also use it as a place to write the menu for your next barbeque or as a "happy birthday" sign for your next birthday party.
These are just a few of the many ways you can increase your family's time spent outside together. By making or purchasing pieces for lawn games, cooling off with water activities, outdoor movie nights, a vertical garden, or fence chalkboards, you can ensure your family will have fun outside all summer long.
If your yard isn't quite where you want it, give Cedar Lawn Care a call today to find out how we can help your lawn stay summer ready.